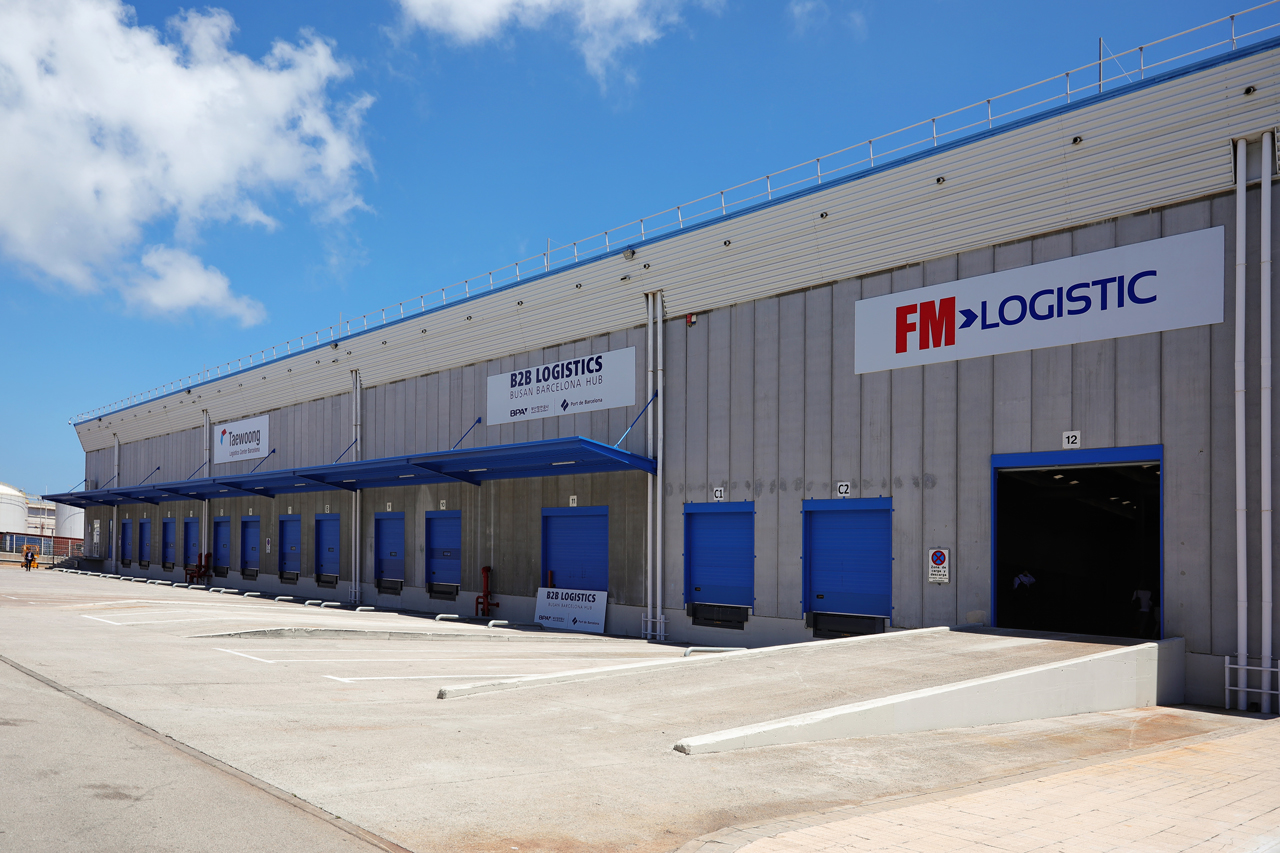 Company
B2B Logistics
B2B Logistics Busan Barcelona Hub SL is a company created by the ports of Busan (in Korea) and Barcelona (in Spain) to promote trade between Northeast Asia and Europe.
The company is an innovative initiative between two ports to improve the logistics of exporters and importers between Korea and Southern Europe. The project has been possible thanks to the close relationship between both port authorities and thanks to the strategic vision shared where the customer is the core of their mission.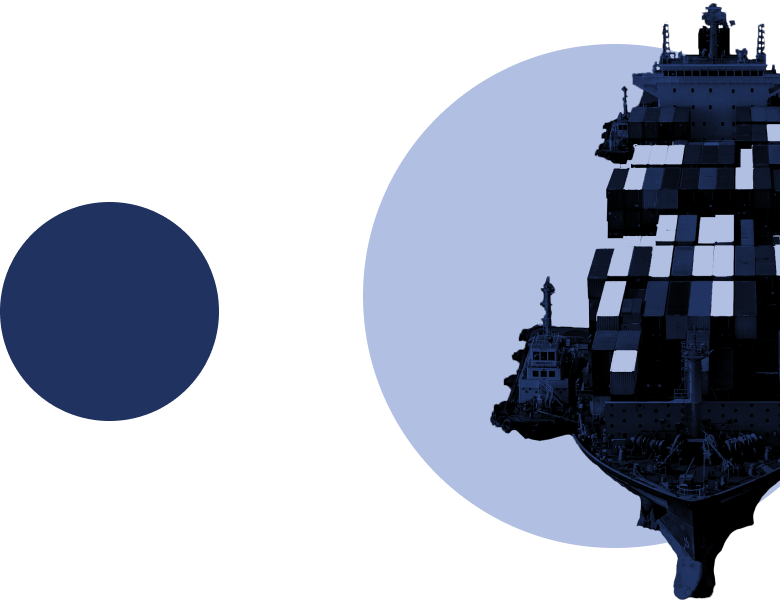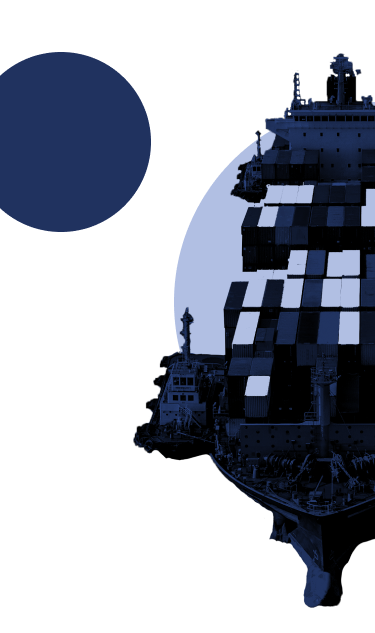 B2B Logistics offers support to Korean companies that want to distribute their products in Southern European Markets and viceversa, and for this purpose it runs a logistics platform with added value services at the Port of Barcelona Logistics Activity Zone (ZAL).
Both countries Korea and Spain have a similar population, a diversified economy and also share a similar corporate culture.
The Korean Republic has become one of the strategic markets of Port of Barcelona. In 2020, Port of Barcelona handled 56% of Spanish maritime imports of general cargo coming from Korea, and Catalonia is the main destination of this traffic, with a market share of 55%.
3 weekly maritime regular container services connect Busan and Barcelona, with a best transit time of 33 days. Check the maritime lines here.
Port of Barcelona
The Port of Barcelona is Spain's main transport and logistics hub and a benchmark port in the Euro-Mediterranean area.
Its area of influence stretches through the south and Centre of Europe and North Africa and is the logistics gateway linking markets as distant as the Far East and Latin America. With around 100 regular shipping lines connecting Barcelona with more than 200 ports in the five continents, Barcelona is Spain's principal port for international traffic. It is specialized in general cargo and high value-added cargo such as consumer goods, electronics products and vehicles.
The Port of Barcelona plays a key role in the competitiveness of the logistics chains that use it to route foreign trade and cabotage. It also is an advanced innovation hub and plays an essential role in the competitiveness of other sectors – nautical, logistics real estate, vocational training and cruises.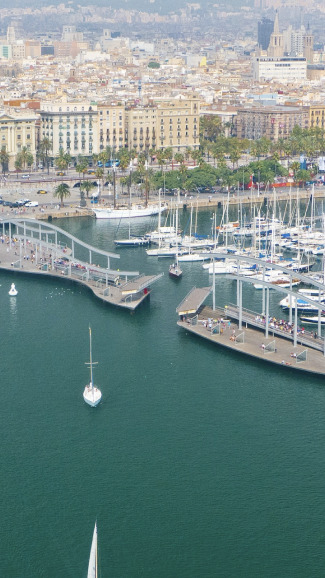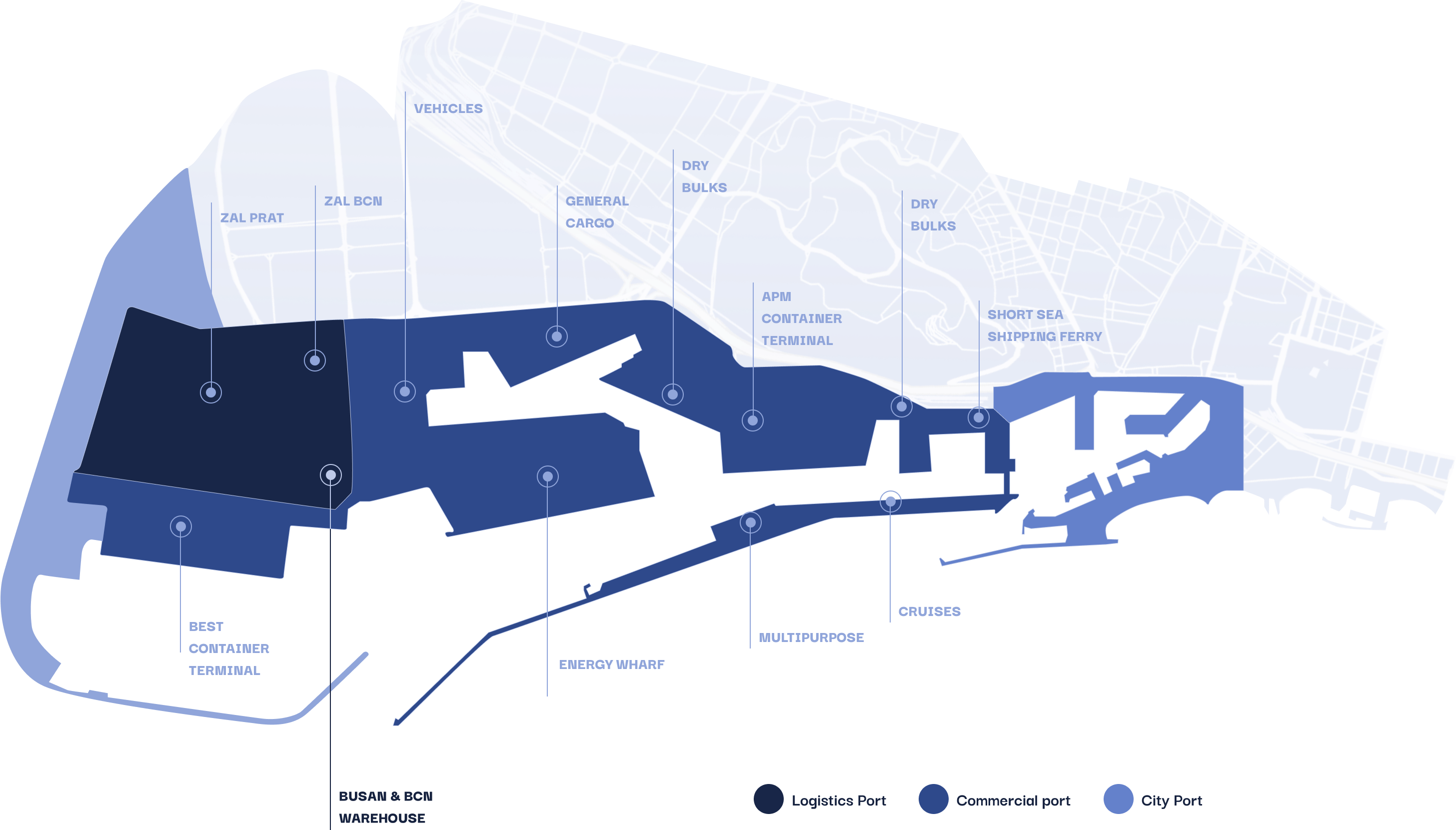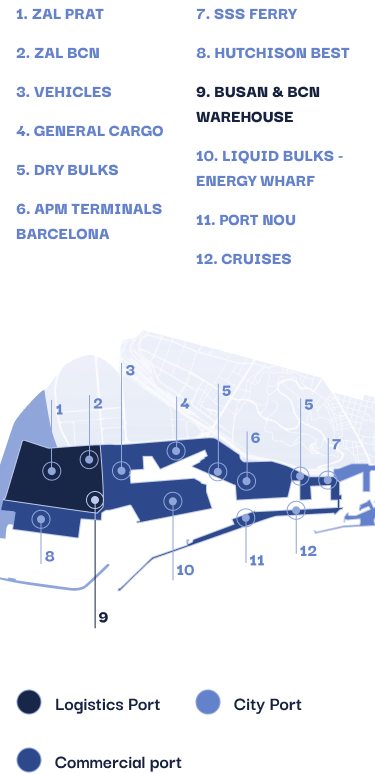 37,000 workers at the port every day.

The Port moved goods worth € 66 billion in 2021

Barcelona is Spain's leading port in terms of turnover and goods value.

Traffic 65 million tones and 3.53 million TEU in 2021.

The Port channels 73% of Catalonia's external maritime trade and 25% of the Spanish total.
The last few years it has witness a process of far-reaching concentration and specialization of the terminals, which are privately managed and operated under a concessionary regime by companies in competition with each other. The Port currently has thirty goods terminals specialized in containers, vehicles, coffee and cocoa, metal products, solid and liquid bulks, and passengers.
The terminals are privately owned and are operated under concession. Barcelona therefore has a highly diversified port, which we could almost describe as five-in-one site: the commercial port; the energy port; the passengers port; the logistics port; and the citizen's port, known as the Port Vell.
Port of Busan
The Port of Busan has become the central hub for high-tech logistics facilities in Northeast Asia, trading with 500 ports in 100 countries around the world. In fact, it is the 6th largest port in the world in container traffic.
In order to accommodate the rapid increase in container traffic in the region, the Port of Busan continues to expand its port facilities and distribution systems, while also developing a state-of-the-art New Port.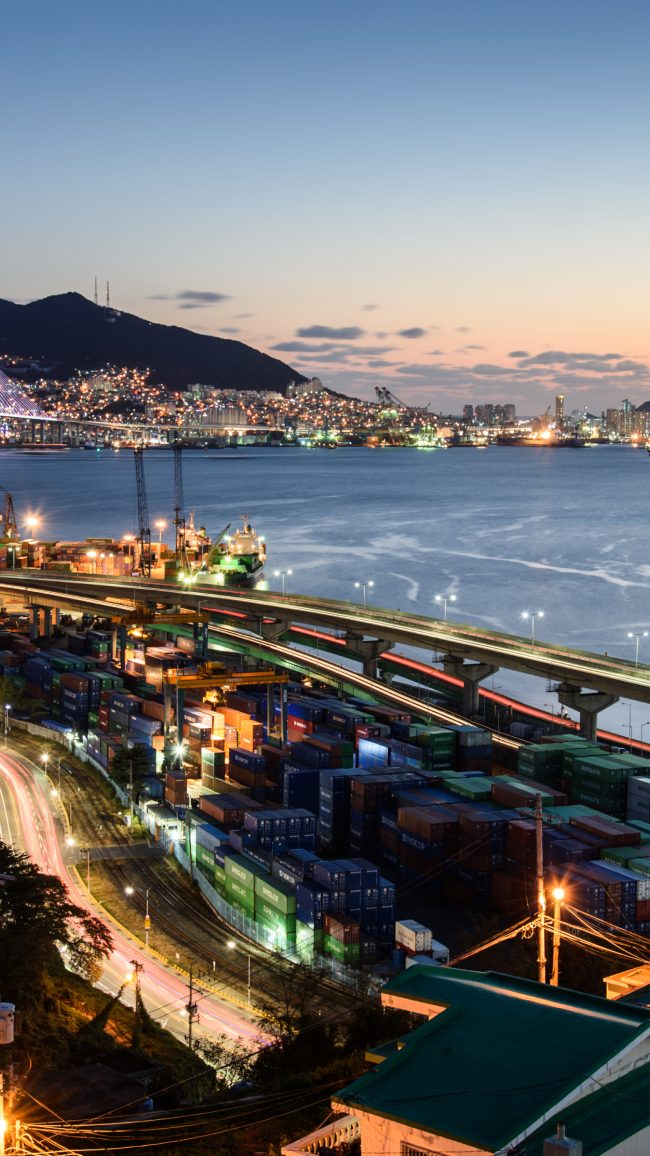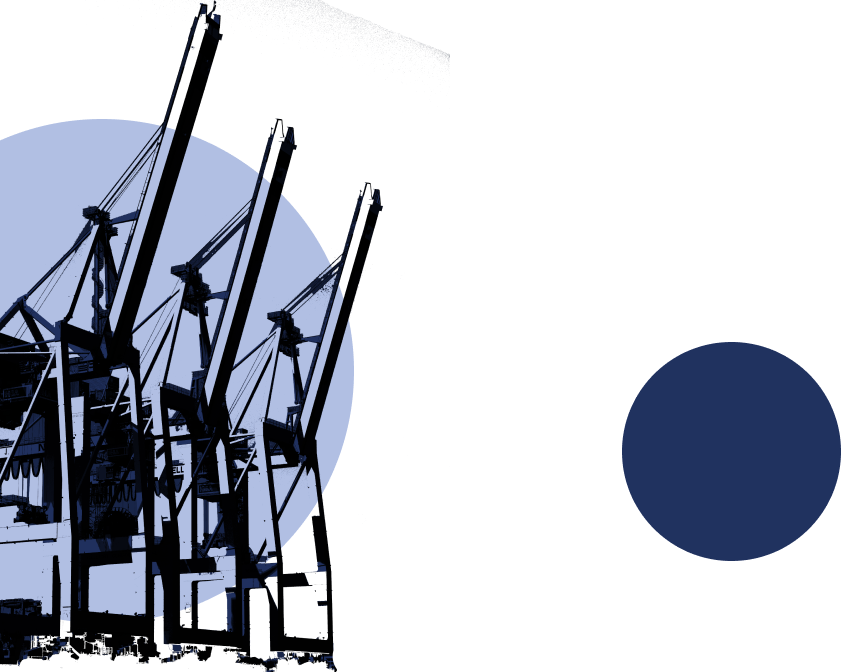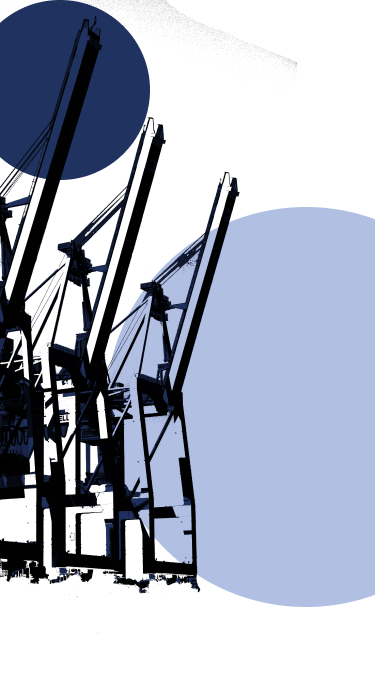 Busan Port, connecting 500 ports in 100 countries, is the central logistics port of Northeast Asia in the 21st century.
These are some of the reasons why the Port of Busan stands out for its differentiated competitiveness:

Driving to be the transshipment hub for the global shipping industry

Offer transshipment incentives (for carriers with more than 5,000 TEUs in annual handling)

Implement cost reduction measures for distribution

Manage an efficient and fast customs clearance, quarantine and inspection system

Application of transshipment cargo (T/S) incentives: exemption from port entry fees for T/S cargoes and reduction of vessel entry and clearance fees.

Global networks that promote port business opportunities abroad to generate transshipment cargoes and foster port alliances with ports in China and Japan
MORE INFO
If you are a Korean company exporting to Southern Europe, or you are willing to access to this market, contact us and we will give you advice (in Korean, English or Spanish) about logistics chain through Barcelona, transport and distribution services, customs, etc. Also, if you need a logistics platform before shipping your goods from Europe to Korea.
Contact us