International brands such as Amazon, IKEA, LIDL, Decathlon, among others, has chosen Barcelona for distributing their products to Spain, France, Portugal, Italy, etc.
Barcelona and its region, Catalonia, is one of the main industrial and consumer areas in southern Europe and the Mediterranean, along with northern Italy. Barcelona has more than 1,660,000 inhabitants and a metropolitan area of 2,500 km2, with 5,000,000 inhabitants making it one of the 10 biggest metropolitan areas in Europe.
Barcelona is synonymous of Quality.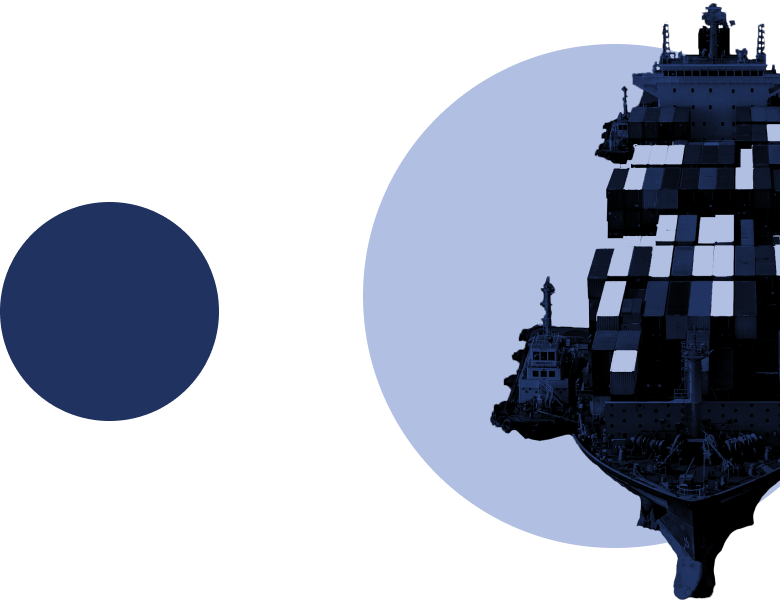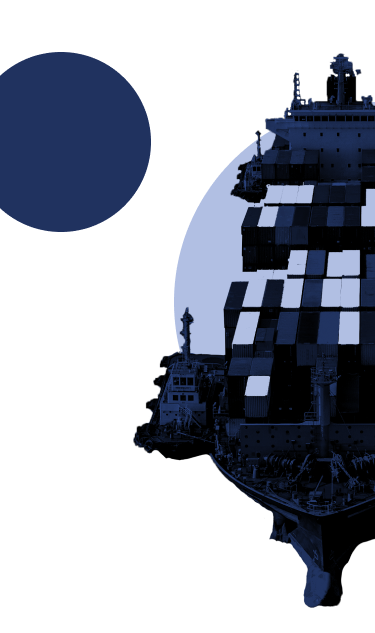 Barcelona is a dynamic economic engine with a diversified structure and international recognition. Many global companies have their headquarters in the city: SEAT, MANGO, Desigual, E-dreams, TOUS…
Reasons for choosing Barcelona

Barcelona and its region, Catalonia, is one of the main industrial and consumer areas in southern Europe and the Mediterranean, along with northern Italy.

It has an open economy connected to the world. It is the 2nd most attractive European Port City for investment in logistics, after Rotterdam, and the fourth European city in terms of innovation.

Catalonia is the first Spanish region in terms of GDP (19.1%) and represents 22% of industry and 22% of employment in Spain.

Catalonia is the 1st exporting region in Spain with a market share of 25%.

Barcelona is the 8th European Technological City of the Future 2020/2021.

It is the third European city and the tenth in the world as a tourist destination.

It was the fourth city in the world in terms of organising international congresses in 2019.
Two of the 10 best European business schools and among the 25 best 25 worldwide.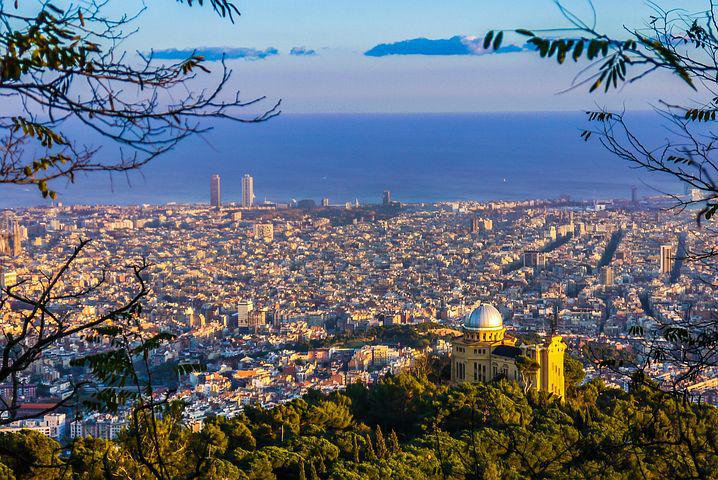 Barcelona is a unique logistics hub in the Mediterranean and southern Europe thanks to four complementary attributes that combine to make up a unique logistics offer in the region.
1.INDUSTRIAL SPECIALIZATION
Home to powerful production centers of the main economic sectors, such as chemical, pharmaceutical, agri-food, automotive, textile and distribution centers of major retail brands.
2. LOGISTICS SPECIALIZATION
Home to an ecosystem of national and global logistics operators that provide all kinds of specialized services to these economic sectors.
3. CONCENTRATION OF LOGISTICS INFRASTRUCTURES
A port and an airport with high international connectivity and logistics areas in a compact location that is unique to the region.
4. DISTRIBUTION CAPACITY
Companies can deliver their products in 24/48 hours to more than 200 million consumers in ten European and Maghreb countries by truck, train, plane, and boat.
Why Port of Barcelona
The Port of Barcelona offers very competitive advantages and a wide range of customer driven services in terms of logistics, transportation and distribution.
Here are some of the main reasons to choose the Port of Barcelona as the entrance to Europe and North Africa, and even as a bridge to South America:
The Port of Barcelona is the most diversified port in the Mediterranean, with the highest value of goods handled.
An integrated logistics hub with a port, an international airport and the best Logistics Activity Zone in the Mediterranean (ZAL), connected to highways and rail.
Is the gateway for Korean foreign trade into Spain, accounting 56% of Spanish general cargo imports from Korea in 2021.
The Port of Barcelona offers excellent connectivity by sea, by road and by train with an efficient distribution to Spain, France, Portugal, Italy and also Morocco and Algeria in northern Africa.
Barcelona is the only Spanish port that is linked to the Europe rail network today on both standard (UIC) and Iberian gauge.
3 weekly maritime regular container services connect Busan Port with Barcelona, with a best transit time of 33 days.
Provides competitive transportation and logistics costs compared to other Western European countries.
It offers a great network of logistics providers and a high specialization of logistics operators in different sectors such as electronics, ecommerce, chemicals, fashion, automotive, etc.
Besides, the final destination of 55% of Korean containerized cargo is Catalonia, so the Port of Barcelona becomes the best strategic port for this type of cargo by reducing cost and time transportation to final distribution points.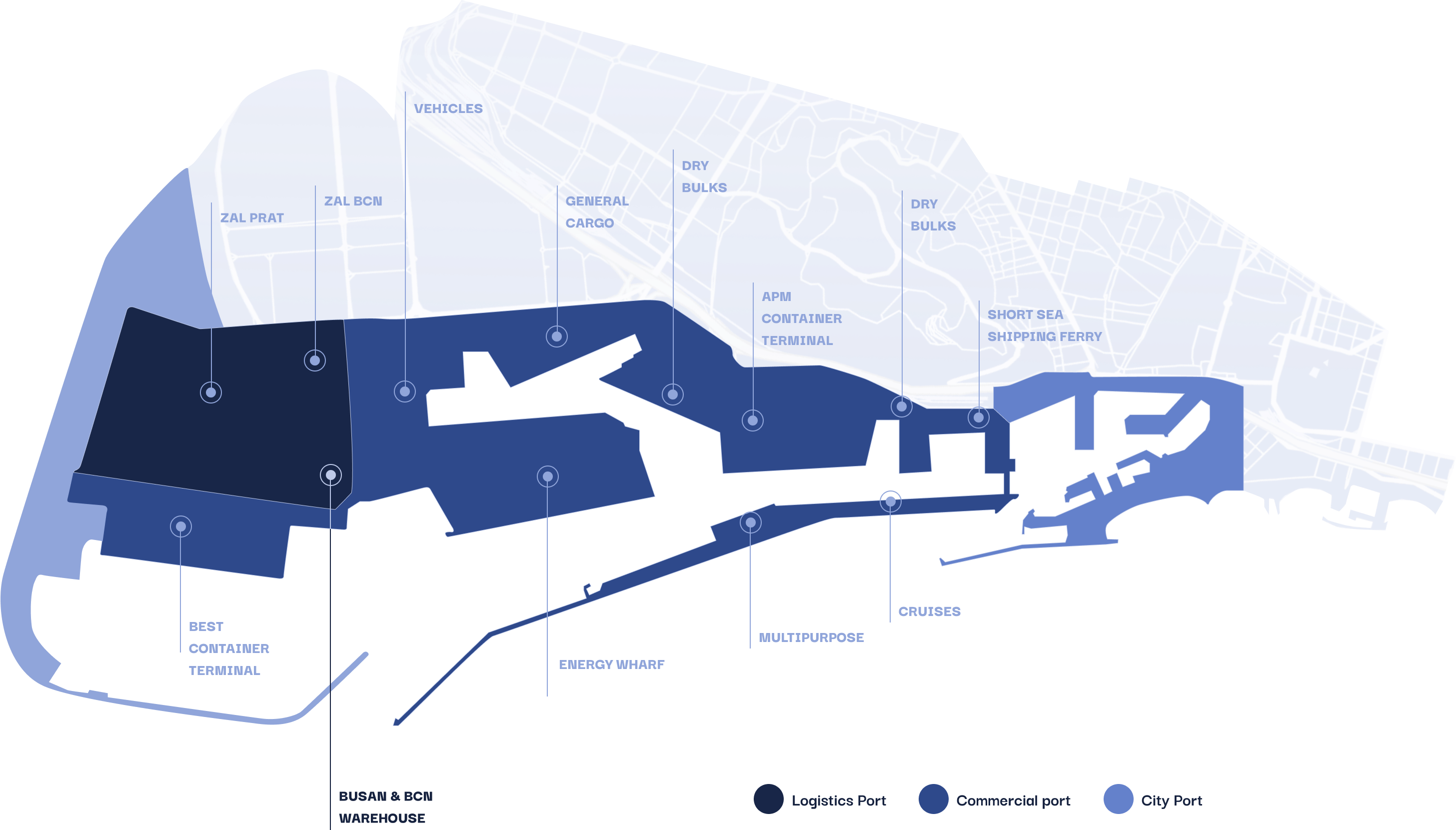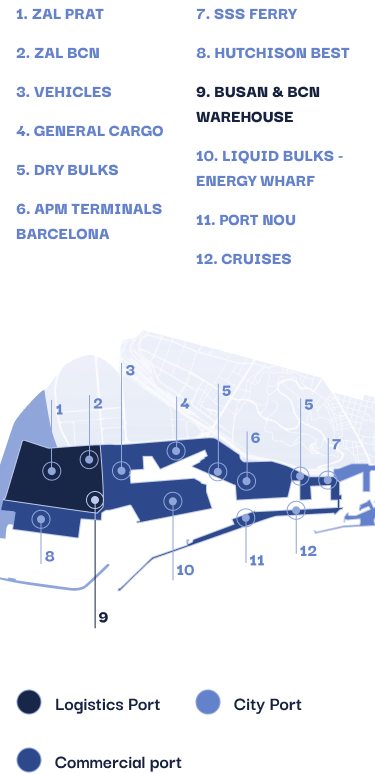 ZAL – Logistic Activity Zone
The ZAL Port is the intermodal logistics platform of the Port of Barcelona and the most important storage and logistics site in the Mediterranean.
Over two successive phases, the first in the early 1990s and the second in the 21st century, 239 hectares of land have been developed for logistics warehouses with a current occupancy rate of 97%. Here are located the warehouses of key brands such as Decathlon, Lidl (European division) and Carrefour alongside others managed by logistics and freight forwarding operators that often serve several countries and markets such as Maersk, DHL, DB Schenker, etc. that make the ZAL Port a unique multi-country distribution centre in the region.
The Logistics Activities Area (ZAL Port) has a total of 920,000 m2 of warehouses built in 2021, including for example a new Decathlon warehousing covering an area of 95,616 m2 and the first in Spain by Maersk, the first shipping line in the world..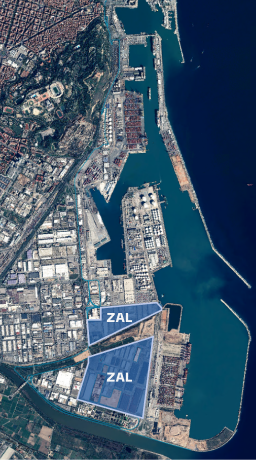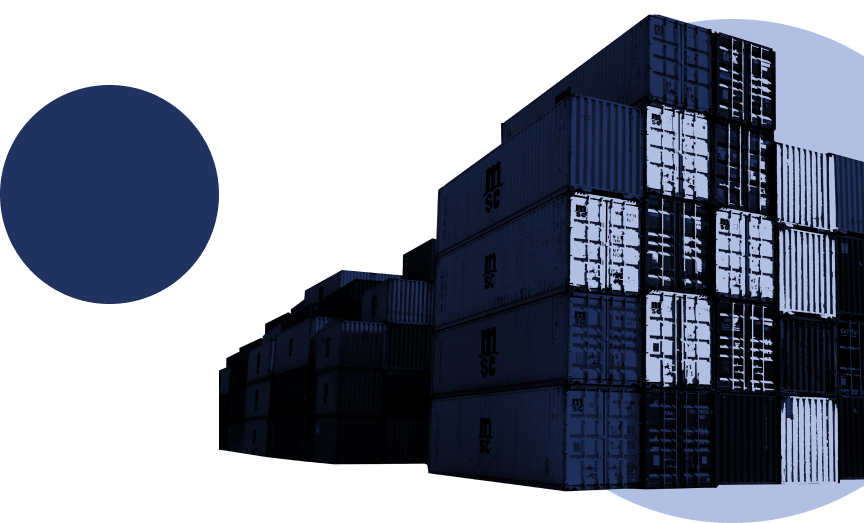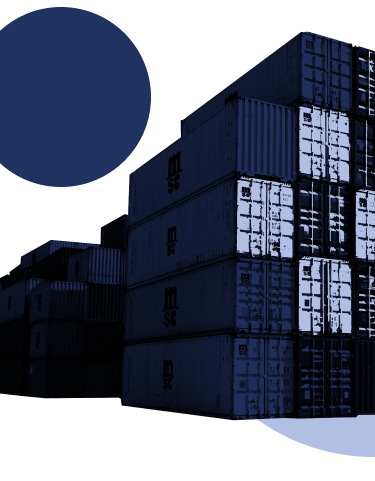 The best logistics location for a multi-country distribution center in Southern Europe
Advantages of ZAL PORT Barcelona:

Located next to port's container terminals and the Border Inspection Point (BIP).

Direct access to highway to Madrid and France.

ZAL is a secured area for its clients, private security 24 hours/365 days. Control access.

Regular, fast maritime connections with Italy, north Africa and Balearic islands.

Saving transportation costs: around 50% less haulage cost compared to using a WH 30 km away

Provision of common services by ZAL managing company: security, maintenance, ICT, cleaning, gardening, etc.

Next to international airport Josep Tarradellas Barcelona-El Prat.
Bonded Warehouse, if necessary.

Next to rail terminals with daily services to Europe.
The Port of Barcelona ZAL Port is a unique Logistic HUB for its high level of intramodality where your company will find the logistics base to expand its market.
Testimonials
B2B Logistics, your logistics solution for distributing between South Korea and Southern Europe.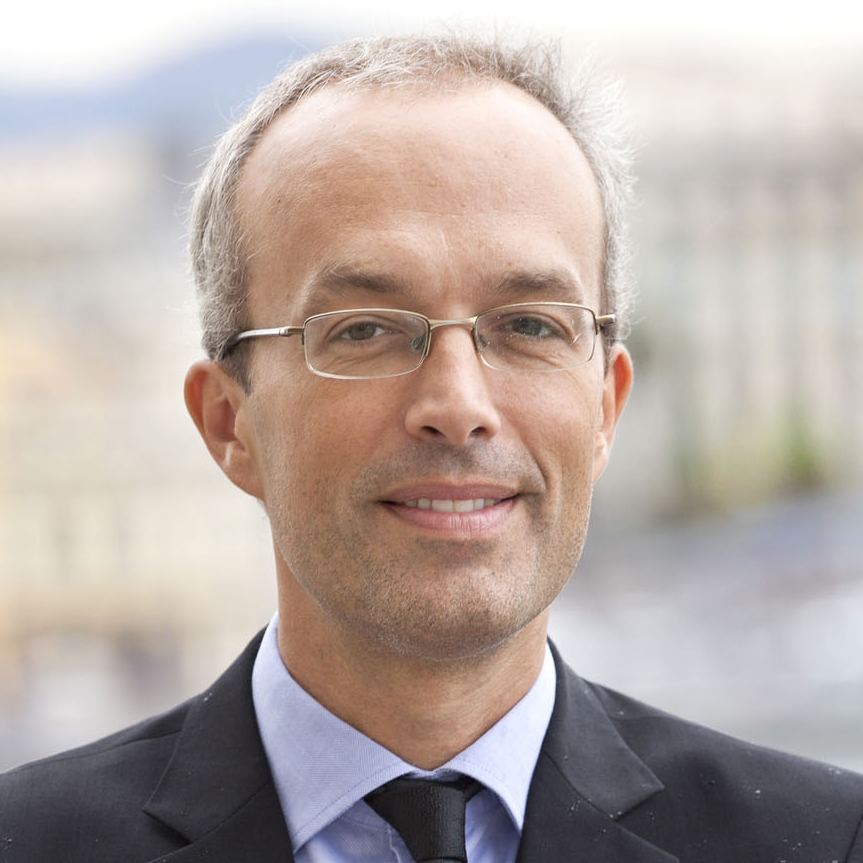 Jordi Torrent
Managing Director B2B Logistics
The Port of Busan has become the central hub for high-tech logistics facilities in Northeast Asia, trading with 500 ports in 100 countries around the world. it is the 6th largest port in the world in container traffic.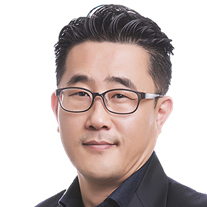 Mr. Koo Ja-rim
Director of Overseas Business Development
FM Logistic delivers sustainable and efficient services under the values of performance, trust and openness.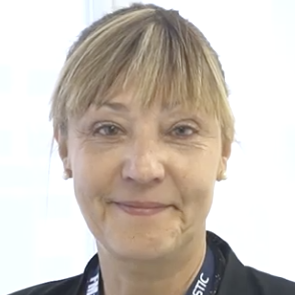 Montserrat Maggi
FM Logistic Business Developer Manager
Taewoong Logistics established its logistic center in Europe through operating its warehouse in ZAL Barcelona, targeting on the whole Spain and neighboring European countries.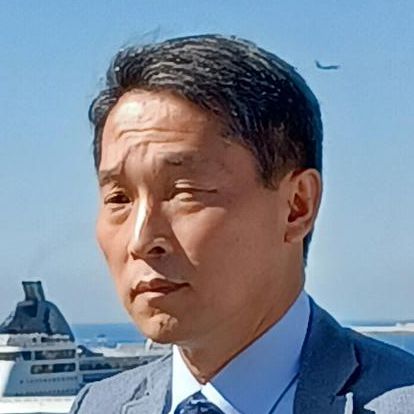 Mr. Kim Taemyeng
Managing Director Taewoong Logistics